Responsive Websites For Mobile Devices
Responsive web design (RWD) is not just important in regard to the technological aspects, but it's also important from a business standpoint.
SAVES TIME & MONEY
FUTURE-PROOFS YOUR WEBSITE
CREATES BETTER USER EXPERIENCE
RANKS BETTER IN GOOGLE SEARCH RESULTS
Mobile compatible websites for the iPhone and Android smart phones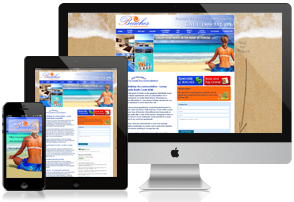 The world is going mobile and your website should too. Mobile users are using their smart phones to enquire, compare and purchase products and services from their mobile devices and they expect to enjoy the same browsing experience as on their desktop. When moving to a mobile website, you need to consider a mobile-friendly and optimized mobile site.
"Website visitors expect to enjoy the same browsing experience as
on their desktop."
Could your business take advantage of a mobile website?
A well designed and optimized mobile site will allow people on the move to look up and access information about your business without having to use a magnifying glass or zooming in to navigate to the next page.
Golden Age Media can help you reach out to the billions of potential customers out there with an advanced mobile site.
Call us on 0431 259 549 or email hello@kazamcreative.com.au to discuss your website or online marketing ideas.
We have over 18 years of experience and a solution that will suit you. It's free to talk to us and we would love to hear from you!