Website Services Include:
Website Upgrades
eNewsletter Campaigns
Search Engine Optimisation
Google Adwords Management

FREE

Ongoing Technical Support *
Website Design – Professional and Affordable
Professional website design and development for all types of businesses and projects. We  build responsive websites that are mobile compatible to ensure your website is reaching the maximum audience. We can design your website as a brochure style website a business website, WordPress websites, real estate website and eCommerce online store that you can manage and update yourself.
Over 300 websites designed and growing
We have been designing and hosting websites on the Mid North Coast NSW since 2000. Our websites are for businesses ranging from small home based businesses right through to large Australian wide businesses.
We have an excellent track record in customer service, building professional websites and making sure your website achieves page 1 ranking in Search Engines. We want you to have a successful website that is easy for your customers to navigate and to contact you.
If you would like an obligation free quote or just want to ask us some questions, please call us on 1300 766 713.
Mobile friendly websites that you can update yourself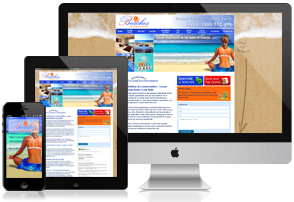 A mobile-friendly website is called a Responsive Website. It will automatically "respond" to the device that is viewing it and display the content in a easier, more readable format. All websites developed by Golden Age Media are made to be responsive websites, so they look and function great on pc's, smartphones and tablets.
Mobile devices are now exceeding desktop computers as the preferred method to view products and information on-line.  This is why your website must be compatible with tablets and smartphones.
How much does a Website Cost?
The cost of having a website designed and developed depends on what type of website you require. The price will range from $500 to $10,000, with the average business website being approximately $2,000 to $5,000. The cost of your website will include the design of your website, SSL certificates, merchant fees for e-commerce websites, search engine optimisation, photography, videos, website hosting and your domain name registration.
A website should be a vital part of any business and is really an investment.
We are happy to discuss your website to ensure you a fully aware of the process and costs involved up front. We encourage you to download our free Website Check List and call us on 1300 766 713 to discuss your project.
Support A Local Web Development Business
Did you know that some website developers will just outsource your website development to India? We are not against outsourcing work,  but let's support local Australian businesses first. At Golden Age Media we keep all of our website development in-house so we can ensure the code is correct, we can make changes or updates very quickly and you can come and meet with us to discuss your project face to face.
We employ local, talented website designers and programmers to work on your website project, so when you are paying us, your money is going to our employees and therefore staying within the community.