Email Marketing Campaigns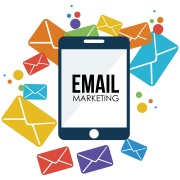 Golden Age Media can help you set up an email marketing campaign to help connect you to the right people at the right time.
Send automated emails whenever you wish with the simple-to-use system we can provide you with. Get started with pre-built templates or use the simple editor to create the ultimate email campaign for your business or service.
Analyse Your Audience!
Receive in-depth reporting on how all of your email marketing campaigns are performing. The simple tools available will help you learn more about who your customers are and whether they are interested in what you are sending them and.


The easiest way to design a campaign!
With the simple system we provide you with you can add blocks of information and photos quickly and easily. Lay out your information exactly how you want it. You can also edit your photos on the fly with the built-in photo editing tools. There is no need to have expensive programs such as Photoshop™, just to tweak a few of your photos!
The template editor gives you the ability to send test emails and post comments for your team members while you are working on another campaign.
All email marketing campaigns are optimised For Mobile!
The best thing is, it's FREE! You will only need to pay a cost if you wish for us to create and manage your campaigns.