Website Design and Website Development
Website Design and Development
Our talented website designers in Forster-Tuncurry will create a stunning, modern and effective website for your business. We have over 20 years experience in website development, eCommerce websites (online shops), domain name registration, Search Engine Optimisation and email marketing.
Our Website Design Packages include:
Professional Website Design – A website that will WOW your customers.
Administration Control Panel – So you can update your website easily without any technical knowledge. We even train you.
Search Engine Optimised – You want your website on page 1 of Google and so do we.
Online Shop – To sell your products to the world. Multiple Payments and shipping methods available.
Responsive Websites – iPhone and Tablet compatible
Google Analytics – To track hits and website activity.
Google SiteMap – This will fast track the Google indexing process.
Ongoing Support – Call us when you need a hand or just want to ask a question about your website.
Domain Name Management – We look after the registering of your domain name(s), configure hosting options and setting up email accounts.
Reliable Hosting Platform – Australian based servers located in a secure data centre.
How much does a website cost?
Websites range from $400 up to $100,000 or more. It depends on your objectives and requirements.
To launch a website, you need to pay for three items.
Domain Name Registration – This is your website address e.g. www.goldenagemedia.com.au. Domain names cost around $40 per year including DNS configuration.
Website Development – This is the creation of your website. Most business websites or online shops should budget around $2,000 to $6,000.
Website Hosting – Your website needs to be hosted on a secure and reliable web server.  Costs range from $15 to $50 per month.
Once your website is "live", you may need to budget for a Google Ads Campaign to promote your website whilst it is being indexed by the major search engines. Launching a new website is like opening a branch office and waiting to get listed in the local phone book. You need to wait for the book to be updated and reprinted. The search engines will not display your website until they crawled your website and updated their database.
What type of websites do we build?
We can customise your website to your specific project or business.
Brochure Website Design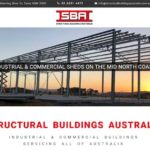 Our Brochure Style Websites are perfect to promote your business, products or services. These are simple one page websites to tell the World about your business. Perfect for tradies and other service businesses and extremely cost effective way to get your website up and running.
Benefits: Very affordable, smart looking, simple and easy,  gets your website included in the Google index.
Example Websites: Forster Website Design, Structural Buildings Australia. Avocado Jo,
---
Online Shops – eCommerce Website Design
Selling products on-line is something every person or business should consider if you have a product or service to sell.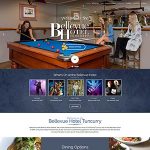 An effective on-line shop isn't just about carts and PayPal. You also need to consider shipping methods and costs, the ease of updating your products, discounts for bulk orders or wholesale clients, providing your customers with multiple payment methods (Bank Transfer, Credit Card, Cheque, PayPal), stock control and automating after sales communication.
If you are looking for online shopping websites, read more about our eCommerce solutions or checkout our website portfolio for an example of our work.
Benefits: Professional design, easy to update products, process orders, multiple payment and shipping methods, the easiest way to sell online and build your customer base.
Example Websites: Sterling Power,  Shane Chalker Photography, Super Horse Saddlery
---
Business Website Design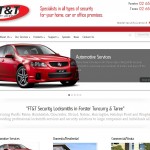 Custom made Business Websites. Every business is different so we are able to provide a tailored solution to suit you. You may need a customised order or enquiry forms, online vouchers, events calendars, user registrations or have your Facebook profile updated everytime you update your website.
Benefits: Very affordable, professional design, easy to update pages, search engine friendly, mobile compatible.
Example Websites: Jacks Moving Services Forster, Hunter Valley Scenic Flights, Agrifarm

---
Sporting Events Website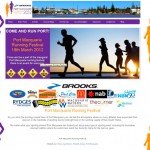 Events such as Sporting Events cannot survive with out a website. They are essential to promoting the event, displaying course maps, the location, local accommodation, sponsors, on-line entry forms and results.  Build your database of competitors and grow your event year after year with a professional and effective events website.
Benefits: Professional design, on-line entry registrations, includes a blog, search engine friendly.
Example Websites: Port Macquarie Runnning Festival, Forster Runnning Festival
---
View our Website Portfolio
We have developed and continue to host and maintain websites for over a hundred businesses. View our extensive website portfolio.
How can we help you with your website?
Email us at hello@kazamcreative.com.au to discuss your website design or online marketing ideas.  We have over 18 years of experience and a solution that will suit you. It's free to talk to us and we would love to hear from you!